Narratives about the communication, limits and hierarchies in children with separated parents
Keywords:
Communication, limits, hierarchy, separation of parents
Abstract
The present research describe the narratives about communication, limits and hierarchies of five children with separated parents, between eight and twelve years old, with the goal of contributing to the understanding of this specific kind of family dynamics, using theoretical elements of the systemic approach and corresponds to a qualitative, descriptive methodology with a narrative design, using the open interviews as technique to collect the information. As a relevant finding, it was found that separation is not a communicative topic in the family, parents rarely talk or interact with each other, they do not reach agreements for raising their children and they do not create any effective parental unity. The mother is in charge for setting limits to the children, and she heads the hierarchy, fully assuming parenting. The separated father does not participate in the pattern of authority, he is not either part of the hierarchical organization, generating that the equal position in the hierarchy is occupied by the mother and the new partner.The members of the family have not elaborated the separation yet, as a consequence, to the difficulties to elaborate the divorce on the part of the children, a relational and emotional tension is added with the new spouses of the parents.
Downloads
Download data is not yet available.
References
Alvarado, S. & Arias, A., (2015). Investigación narrativa: apuesta metodológica para la construcción social de conocimientos científicos. CES Revista Psicología, 8, (2), 171-181. Recuperado de http://revistas.ces.edu.co/index.php/psicologia/article/view/3022/2427
Barudy, J. & Dantagnan, M. (2009). Los buenos tratos a la infancia: parentalidad, apego y resiliencia. Recuperado en http://myslide.es/documents/2005-los-buenos-tratos-a-la-infancia-barudy-dantagnan-1pdf.html
Bautista, N.P. (2011). Proceso de la investigación cualitativa. Colombia: El Manual Moderno Ltda.
Berger, R. (2006). Perspectivas clínicas del tratamiento de las familias ensambladas. En Roizblatt, A. (Eds.), Terapia familiar y de pareja (p. 661-678). Santiago, Chile: Mediterráneo Ltda.
Cyrulink, B. (2005). Los Patitos Feos (5ta Ed.). Barcelona: Gedisa, S.A.
Freeman, J., Epston, D., & Lobovits, D. (2001). Terapia narrativa para niños. Barcelona: Editorial Paidós.
Glick, I.D. & Ritvo, E.C. (2003). Terapia de pareja y familiar. México: Manual Moderno.
Hernández, A. (2001). Familia, ciclo vital y psicoterapia sistémica breve. (1ra Ed.). Bogotá, Colombia: El Búho.
Gómez, P., Muñoz, M. & Santamaría C., (2008). Pensamientos y sentimientos reportados por los niños ante la separación de sus padres. Universitas Psychologica, 7, (2), 347 - 356. Recuperado de http://www.scielo.org.co/pdf/rups/v7n2/v7n2a04.pdf
Granda, M. & Solano, M., (2016). Divorcio de los padres y el cambio del comportamiento en los hijos. Tesis de maestría no publicada. Universidad técnica de Machalá, Ecuador. Recuperado de http://repositorio.utmachala.edu.ec/handle/48000/8315
Hernández, R., Fernández, C. & Baptista, P. (2010). Metodología de la investigación. (5ta Ed). Colombia: McGrawHill.
Iraurgi, I., Iriarte, L., Martinez, A., & Sanz, M., (2009). Impacto de la ruptura matrimonial en el bienestar físico y psicológico de los hijos. Síntesis de Resultados de una línea de investigación. LA REVUE DU REDIF, (2), 7 - 18. Recuperado de https://www.researchgate.net/profile/Ioseba_Iraurgi/publication/237126387_Impacto_de_la_ruptura_matrimonial_en_el_bienestar_fisico_y_psicologico_de_los_hijos_Sintesis_de_Resultados_de_una_linea_de_investigacion/links/0deec5294bd0d5d349000000.pdf?origin=publication_list
Kaslow, F.W. (2006). Familias que han experimentado un divorcio. En Roizblatt, A. (Eds.), Terapia familiar y de pareja (p. 661-678). Santiago: Mediterráneo Ltda.
Madanes, C. (2007). Terapia familiar estratégica. (4ta. Ed.). Buenos Aires: Amorrortu.
MINJUSTICIA (2016). En 2015 los colombianos se divorciaron más y se casaron menos. Ministerio de justicia, Bogotá, Colombia. Recuperado de https://www.supernotariado.gov.co/PortalSNR/ShowProperty?nodeId=%2FSNRConte nt%2FWLSWCCPORTAL01108251%2F%2FidcPrimaryFile&revision=latestreleased
Minuchin, S. & Fishman, H.C. (2004). Técnicas de terapia familia. (1a. Ed.). Buenos Aires: Paidós.
Minuchin, S. (2004). Familias y terapia y familia. México: Gedisa.
Ochoa, I. (1995). Enfoques en terapia familiar sistémica. (2a. Ed.). Barcelona: Herder.
Orgilés, M. & Samper, M., (2011).El impacto del divorcio en la calidad de vida de los niños de 8 a 12 años de edad en la provincia de Alicante. SESPAS Elsevier España, S.L. 25, (6), 490 - 494. Recuperado de http://scielo.isciii.es/scielo.php?script=sci_arttext&pid=S0213-91112011000600009
Sánchez, G.D (2000) Terapia familiar modelos y técnica. México: Manual Moderno S.A de C.V
Thomas, F. (14 de septiembre de 2013). La familia en crisis: ¿cuál familia en crisis?. El Tiempo. Recuperado de http://www.eltiempo.com/archivo/documento/CMS-12990648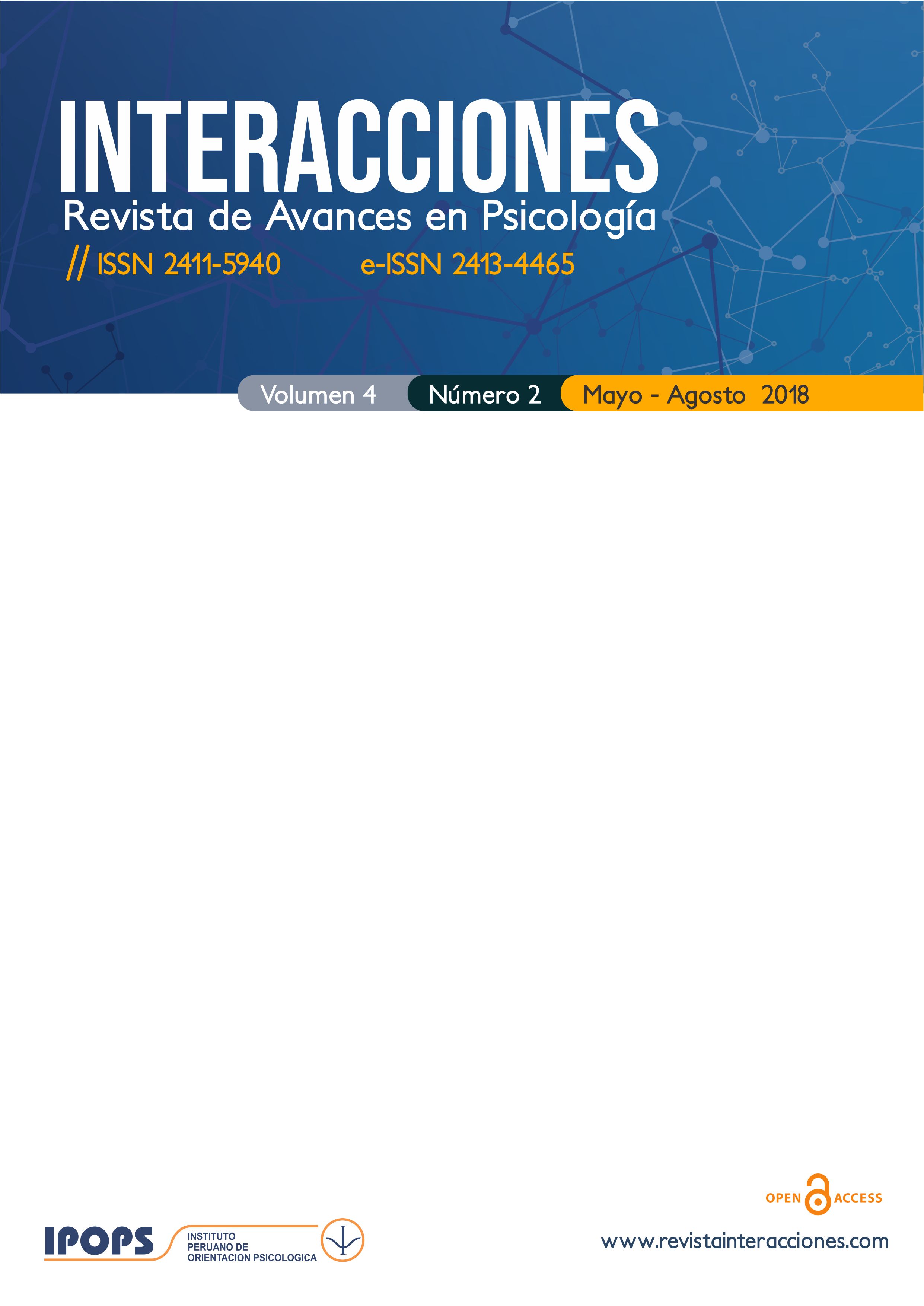 How to Cite
Pinzón, L., & Vanegas, G. (2018). Narratives about the communication, limits and hierarchies in children with separated parents. Interacciones, 4(2), 115-129. https://doi.org/10.24016/2018.v4n2.100
Copyright (c) 2018 Interacciones
This work is licensed under a Creative Commons Attribution 4.0 International License.
The authors retain the copyright and give the journal the right of the first publication and that they can edit it, reproduce it, distribute it, exhibit it and communicate it in the country and abroad through printed and digital media.
The digital version of the journal is registered under a Creative Commons license (Under Creative Commons License): Attribution 4.0 International (CC BY 4.0). Therefore, this work can be reproduced, distributed and publicly communicated in digital format, provided that the names of the authors and Interacciones.
Therefore, it is established that authors can make other independent and additional behavioural agreements for the non-exclusive distribution of the version of the article published in this journal (eg, include it in institutional repositories or publish it in a book) as long as it is clearly indicated that the work was published for the first time in this journal.